Once you have purchased snappy fax, you will receive a registration email with a license file attached to the registration email.
Save the license file to a folder on your computer. You do not have to "open" the license file, just save it to your hard drive and make a note of where you saved it. There is a video tutorial on our tutorials page showing how to apply the license file.
To apply the license and register snappy fax, click the 'Apply License Key from File' button on the 'Help & Support ribbon tab.
The registration screen looks like this: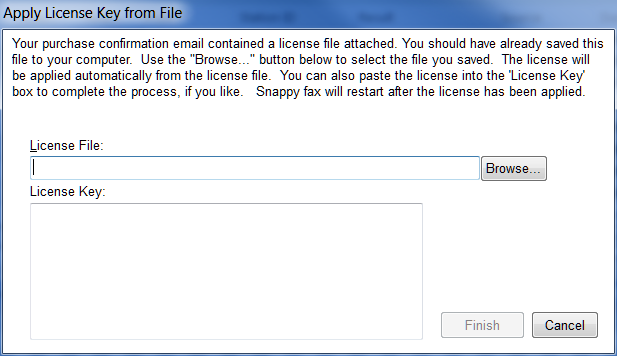 Click the 'Browse...' button to browse to the folder where you saved the license file, select the file you saved from the registration email and click OK from the file open dialog. After selecting the license file, click the 'Finish' button to apply the license. Snappy fax will acknowledge the successful registration and then restart.
If you did manage to open the license file attached to the email, for example with notepad, you can copy it from notepad to the clipboard and paste into the License Key: area on this screen.
If snappy fax informs you that the license is invalid then review your purchase record for snappy fax. If you purchased the fax server software in error then contact snappy software support at support@snappysoftware.com.
The license files for snappy fax network server and snappy fax desktop/client are not interchangeable.