Modem Line Properties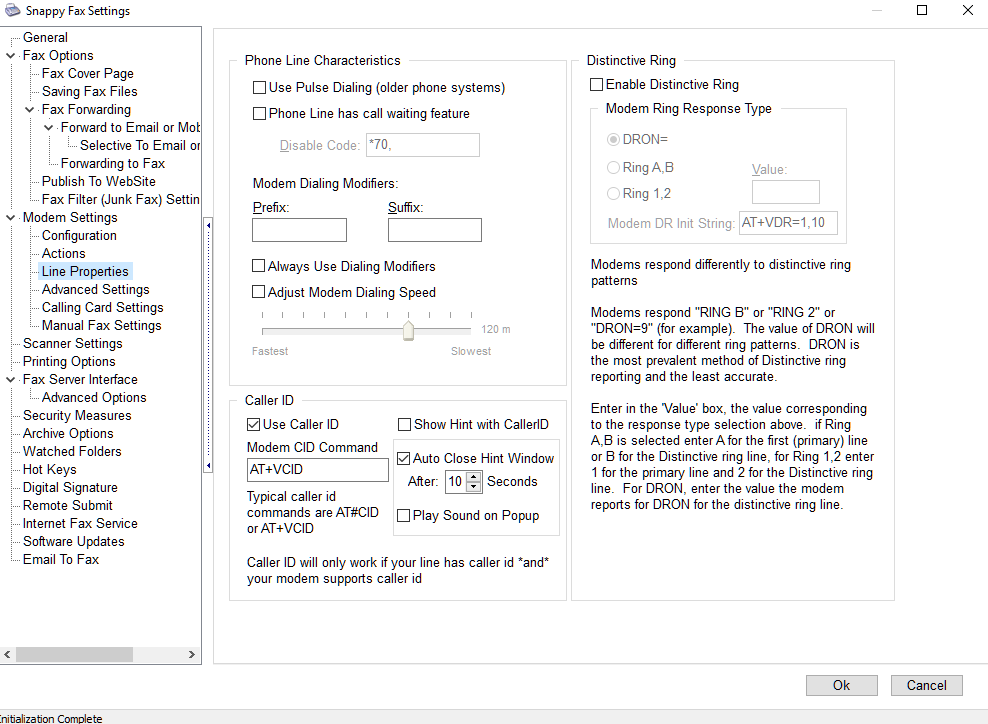 Pulse Dialing
Check this option if you have a very ancient phone system using a rotary dialer. Checking this option in any other situation will cause fax calls to fail. Pulse dialing is obsolete almost everywhere now with the possible exception of some very rural areas.
Call Waiting
If your phone line has call waiting, the best advice that can be given is to get rid of that feature. A call waiting tone emitted on the line during a fax session is guaranteed to kill the session. You can disable call waiting for the duration of an outbound call using the Call waiting disable code but there is no way to disable call waiting when receiving a fax.
Call Waiting Disable Code
The default disable code of *70 is not guaranteed to be correct. Consult your phone provider for the correct code and enter it in this box followed by a comma.
Dialing Modifiers
If you need to precede the fax number with a code like 9 to obtain an outside line, enter the code in the Prefix box followed by a comma. The suffix box is for use in special situations where a suffix should be dialed after the fax number.
Always use modifiers
If this option is checked the phone number entered before sending a fax will always be modified using the prefix and suffix. If you do not always want to use the prefix and suffix , leave this option unchecked and enter the prefix and suffix as part of the fax number yourself at fax time.
Use Caller ID
If your phone service has caller id feature then check this box. The default caller is modem command is AT+VCID, this may not be the correct command for your particular modem, please consult your modem documentation to ensure the correct command is used.
Distinctive Ring
If you have distinctive ring on your phone service, complete this section. DRON is the most common modem implementation of reporting distinctive ring. The DRON value will depend on your DR service. Your phone provider will likely NOT be able to tell you this information. We can assist you in determining the correct value if you can provide us with a transmission log. To obtain the log, make sure the Keep Transmission logs is checked *and* 'Include page data in log' is also checked. Start receive mode in snappy fax, call your DR number and let the session fail normally. Select the item in the inbox for the failed attempt, right click and select 'View transmission log'. Save the log to a .txt file and send to tech support requesting help with DRON value.