If you are an existing snappy fax user, you can import your data from your prior version provided you currently have snappy fax version 4.
If you have snappy fax version 3 then you will first need to install snappy fax version 4 which will convert your database files into a format that can then be imported into this version of snappy fax.
To import your prior version data, click the 'Import from Prior Version' button on the Utilities ribbon tab.
The import screen looks like this: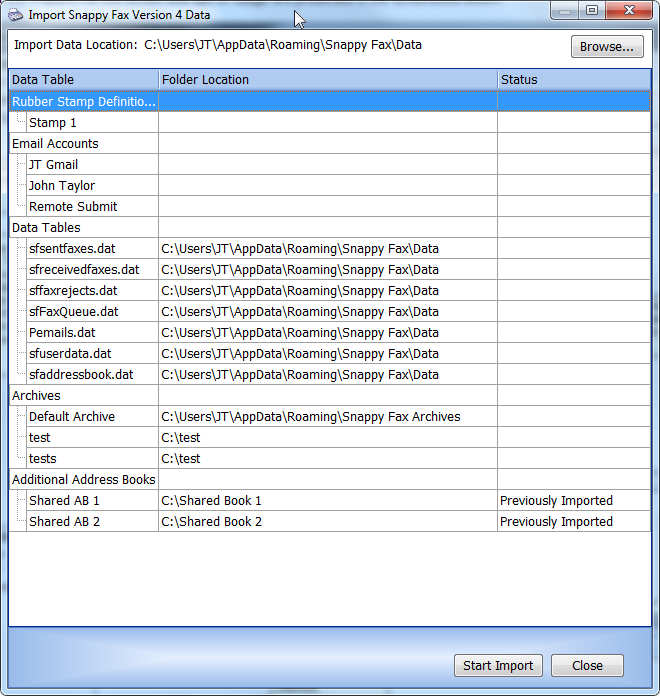 Note that snappy fax should automatically find the location of your prior version data files, if not use the Browse button to locate the prior version data folder.
The import procedure will import any rubber stamp definitions, email accounts and data tables including fax archives and additional address books.
Once you click the 'Start Import' button the import process will start and cannot be interrupted. If your fax data files are very large please budge sufficient time to allow the import to complete.
Note that when you first run snappy fax version 5, it will import the default cover page template to the new version 5 format as well as settings and other registry entries from your prior version, these items are not imported here and are only imported on the first run of snappy fax version 5.
Your prior version data files are not disturbed in anyway, they are copied to a work folder and then upgraded to the new database engine format and imported into the new database. Snappy fax version 5 databases are not compatible with prior versions of snappy fax so a conversion process is necessary to make your prior version data useable in snappy fax version 5.
If you are using the fax server software and have snappy fax configured as a client to the fax server, you should complete any status updates or imports from the server before importing the data into version 5.