Snappy fax can set a schedule to start or stop fax receive mode. To access the Receive Mode Scheduler, click the 'Receive Mode Scheduler' button on the 'Fax Home' ribbon tab.
The Scheduler screen looks like this: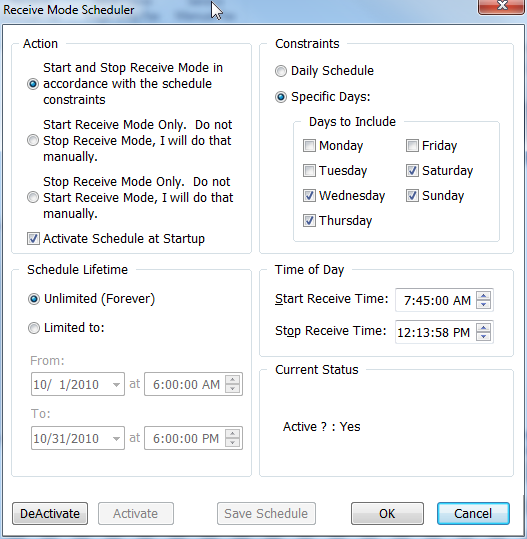 The constraints and actions of the scheduler are quite self explanatory. If you want to have a schedule be active when you start Snappy Fax, check the 'Activate Schedule at Startup' checkbox. From this window, you can Activate an inactive schedule or DeActivate an active schedule. Snappy Fax will validate these settings before you can
save the constraints.
Important:
Snappy Fax will adhere strictly to any schedule that is active. If you have set the scheduler to stop fax receive mode at a certain day and time then it will do so without regard to whether you have manually set fax receive mode yourself. You can view scheduler activity in the 'Thread Messages' view. When the scheduler issues a command to stop or start fax receive mode, it will log this activity in the thread messages log.
Note that, if Start and Stop action is selected, the Start Receive Time must be before the Stop Receive Mode Time and that when snappy fax is started, if both the start and stop times have passed, receive mode will not be started but rather the target action and time will be to set receive mode at that time for the next day to which the schedule applies.