You can access the address maintenance screen by clicking the 'Address Book' button located on the Tools & Accounts ribbon tab.
The address book maintenance screen is presented below with tips on usage: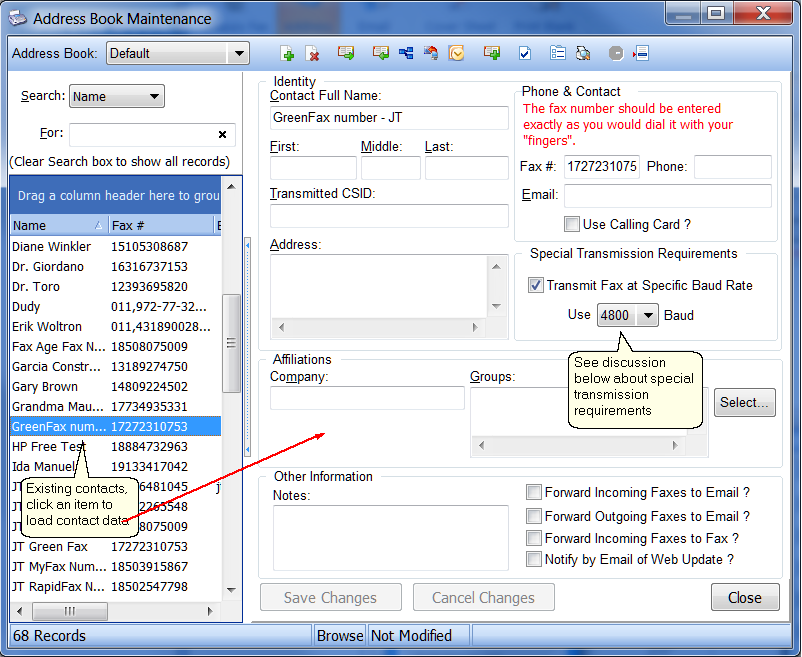 The contact information is self explanatory, a few items are discussed below as well as the toolbar buttons and their function:
Transmitted CSID:
If you want snappy fax to lookup in the default address book the name of the fax sender, you will need to enter the CSID (calling station identifier, ie fax number) of the sender exactly as they transmit it. If snappy fax can find an exact match in the default address book then it will enter the first contact name that matches the CSID in the 'From ' field in the inbox.
Special Transmission Requirements:
If you have a contact that you have difficulty transmitting faxes to except at certain slow speeds then you can check this item and select the baud rate to use when transmitting to this recipient only. Without this feature, you would have to set your default baud rate to 4800 (for example) which would restrict all fax transmission speeds. Typical examples where this would be necessary would be very old technology fax machines which do not support higher fax speeds or have compatibility problems with newer fax devices.
Toolbar buttons:
The toolbar buttons are explained below in order from left to right

Add new contact
As it says, add a new contact
Deleted selected contact(s)
You can select multiple contacts in the list to the left and delete them by clicking this button. Intuitively it means delete the current contact, but if you select multiple contacts in the list (hold down the shift or control button while selecting with the mouse), you can delete multiple contacts.
Export Address Book
Click this button to export contacts to the indicated file types in the screenshot below: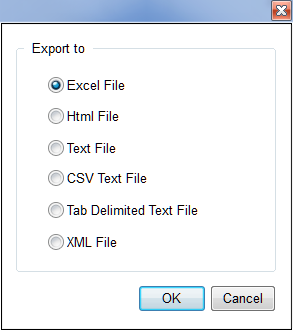 Import Contacts
Use this button to import contacts.
See: Importing Contacts
Merge Address Books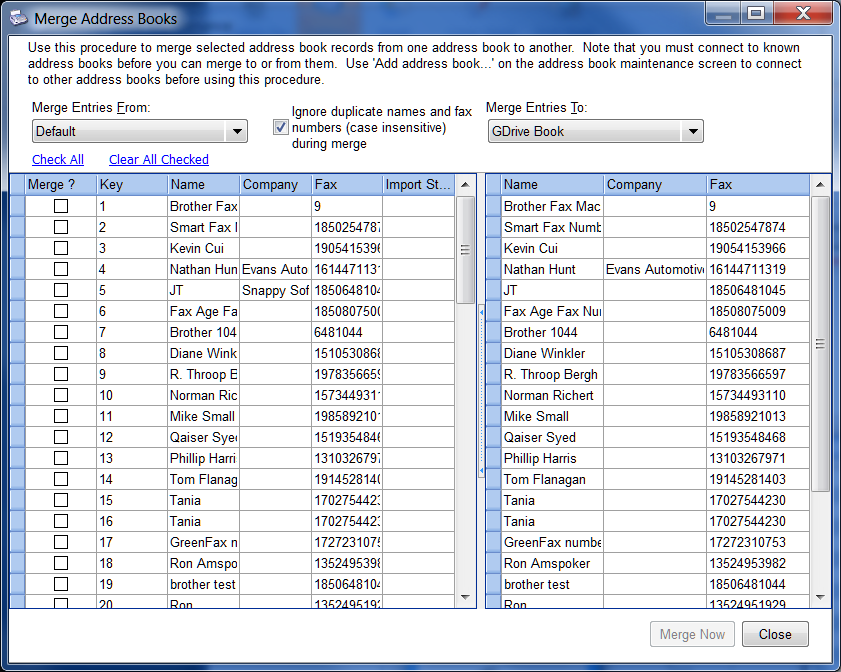 Import Prior Version Address book
Use this button to merge a version 4 snappy fax address book to version 5
Import Outlook Contacts
Use this button to import your contacts from Outlook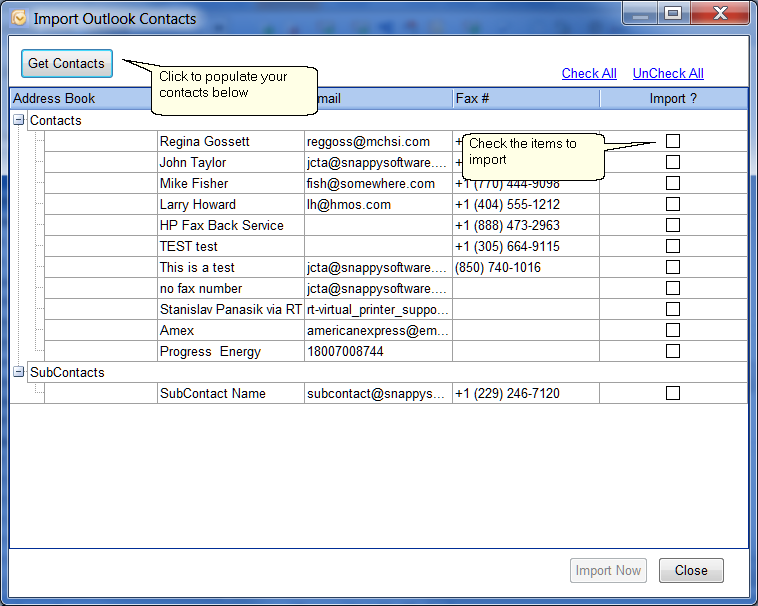 Additional Address books
See: Shared Address Books
Make this the primary address book
If you have created several address books and want a particular address book to be the primary address book, select that address book and click the button. Note, the default and primary address books are not necessarily the same. The primary address book will always be selected first, for example when sending a fax, it will be presented first. The default address book is the one created automatically by snappy fax.
Assign Group to selected contacts
You can assign a group name to multiple contacts in one operation. Select the contacts in the contact list to the left and click this button.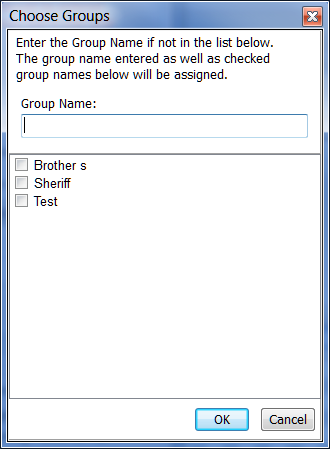 Print Address book listing
Print the contact list
Remove this address book
Remove the current address book. Note: not allowed for the 'default' address book
Mass edit fax numbers
Useful if you need to make sweeping changes to multiple selected contact fax numbers