Snappy Fax Desktop/Client
$29.99 Standard edition / $59.99 High Speed fax Super G3 edition
Since 1999, thousands of users worldwide have been using Snappy Fax to send and receive faxes. At $29.99 ($59.99 for Super G3 Edition) and with the most extensive feature set of any fax software around, Snappy Fax is a real bargain!

You won't find any fax software supporting High Speed Fax (known as Super G3) in this price range !


Snappy fax is compatible with Windows 2000, Windows XP, Windows Vista, Windows 7 and Windows 8, both 32bit and 64bit. All Windows Server versions are also supported.

In addition to the traditional sending/receiving faxes using your own phone line and fax modem, Snappy Fax now supports sending and receiving faxes using your internet fax service if that is your preference. Services currently supported are eFax, myFax, MetroFax, RapidFax, Fax87, SmartFax and FaxAge, others to be added soon.

Snappy Fax is now available in an ActiveX Automation Server edition, which allows you to automate or integrate fax into your application.

The full version of snappy fax is free to use for 30 days, take a test drive today !


Learn More
Download Now
Buy Now
Snappy Fax Network Fax Server
$69.00 Standard edition/ $149.00 High Speed fax Super G3 edition
Pricing Quick Setup Guide (pdf)

Tired of waiting in line at the office fax machine ? Have multiple network computers but only a few phone lines ? A fax server is just what you are looking for!

With Snappy Fax server, just submit your fax, continue with your work and you'll be notified when the fax is finished. Our fax server supports up to 32 fax modems sending and receiving faxes simultaneously. Expensive dedicated fax boards are not required and since it is priced on a "per workstation" basis, it's affordable for small and large networks alike.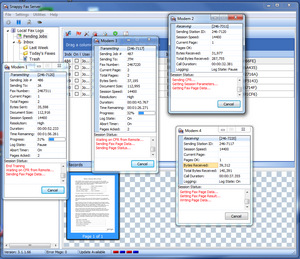 Snappy Fax Server is compatible with Windows 2000/XP/Vista/Windows 7/Windows 8, all versions of Windows Server and Remote Desktop Services is supported. Fax Server is suitable for both peer-to-peer networks and Windows Server network environments.

Whether you're an insurance agency with a small network or a medical practice needing fax integration into your medical records software, you'll find our fax server will fit nicely into your current workflow.

The full version of our fax server software is free to use for 30 days, discover for yourself, it's the best fax server anywhere!
Learn More
Download now
Buy Now

What our customers say...
Real comments from real users
" I removed our current expensive complicated fax server software today and installed Snappy Fax Server in its place. I found Snappy Fax to be so easy that I was up and running in an hour and that is including the time it took to remove the old fax server software and it included the time to test both ports and make such adjustments as autoprint to a certain printer and save each fax as a separate file in the folder of my choice. I have used several fax servers and I am blown away by how easy and complete yours is. We are implementing your software for the mere cost of the annual support contract on the other.

Thanks for Snappy Fax Server! "

Mike Magarahan
" Just a note to let you know that I purchased Snappy Fax and have been using it for about 3 weeks now. Its working great for our purpose of capturing incoming medical lab result faxes and making them available for importing into our EHR systems. It is an inexpensive , simple alternative to expensive complicated systems I have evaluated "

Chris, Leawood,KS USA


" I just wanted to tell you how happy I am with this program. In fact, in the 30 years I've been working with computers, I cannot remember one single program, save Snappy Fax, that I was totally happy with. The program works flawlessly - updates are timely and install without a hitch and your service and support are second to none!
Thanks again for a Quality product. "

Sam Hayes
" Thank you. Registration successful. Thanks for hard and clever work in accomplishing a software masterpiece - elegant, not heavy, efficient in every regard - that has everything really needed, including annotations.

High appreciation for God-inspired minds "

Michael Sharon, Tel Aviv
" We looked around for Fax software and tried many. Yours was head and shoulders better than others! Your response to questions have been superb.

Thanks! "

John Hassard, Ontario, Canada
Read More...