THE GOLD STANDARD IN FAX SOFTWARE
Trusted by thousands for over 20 years, Snappy Fax is the best integrating fax software on the market today.
Our fax software, a favorite for 20+ years, just keeps getting better
New!!  You can now search fax "content" using Snappy Fax Desktop's new OCR feature.  You can convert any image into a text document.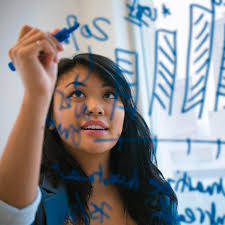 You'll find snappy fax to be the easiest-to-use fax software on the market today.  Throughout our 20 year history, we have always listened to our users.  You drive the evolution of snappy fax's many features as well as the user interface.  Almost every feature request we receive is taken very seriously and unlike the large behemoth software companies, we can and do respond to our users with frequent updates and feature additions.  With features like email-to-fax and internet fax transport, you won't find any other software, with this many features – at any price!
Check out one of these video presentations to see how easy our fax software is to use:
Snappy Fax Desktop is available in French, Spanish, German, Italian, Dutch, Swedish, Norwegian, Finnish, Hungarian and 9 other foreign languages.
"I am blown away by how easy and complete yours is"
I removed our current expensive complicated fax server software today and installed Snappy Fax in its place. I found Snappy Fax to be so easy that I was up and running in an hour and that is including the time it took to remove the old fax server software and it included the time to test both ports and make such adjustments as autoprint to a certain printer and save each fax as a separate file in the folder of my choice. I have used several fax servers and I am blown away by how easy and complete yours is! We are implementing your software for the mere cost of the annual support contract on the other.
Mike Magarahan
Use our software online or in real-time
Our software was originally designed to send and receive faxes using your telephone line and your fax modem, and of course, we continue to support that "real time" mode.   Several years ago, we recognized the value of online faxing.  While we do not provide an online fax service directly, Snappy Fax and Snappy Fax Server both support FaxAge and SRFax online fax services.  We chose these two and only these two online services after much research and testing, which included about two dozen services.  They are absolutely the best choice in terms of cost, security and HIPAA compliance.
Eliminating a cumbersome web interface, streamlining the fax process and receiving new faxes completely unattended in the background, Snappy Fax is the perfect front-end for FaxAge and SRFax.
You will note in the product descriptions below, the use of the terms "SG3" and "Standard" Editions.  SG3 denotes "Super G3" fax capability.  The ONLY difference is that our "SG3" editions support fax speeds above 14,400 bps but require a fax modem that supports Fax Class 2.1.  The maximum fax speeds are 33,600 bps.  Factors like phone line conditions and the remote fax's capabilities will govern the speeds that are actually attainable in any given fax session.  Note that Snappy Fax Lite does not have an "SG3" edition.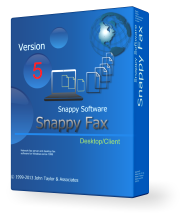 Snappy Fax Desktop/Client
This is our full-featured desktop software.  You get everything here, email-to-fax, automated fax sending, junk fax filtering, custom cover page designer, automatic forwarding to email and you can use your installed fax modem or internet fax service to send/receive faxes, just to name a few.  The standard edition is only $49.99, the Super G3 Edition (SG3) is only $69.99.
When configured properly, Snappy Fax Desktop also serves as the "client" to our fax server.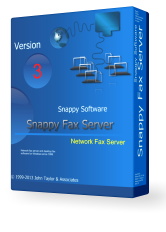 Snappy Fax Server
Snappy Fax Server is the right choice if you need to support faxing from multiple workstations on a network.  Snappy Fax Server can support up to 32 fax modems or you can send/receive faxes via your internet fax service. Pricing for the standard edition is only $99.00 plus $49.99 per supported network client.  The Super G3 Edition (SG3) is only $149.00 plus $49.99 per network client.
If you need to fax from one computer, you need Snappy Fax Desktop.  There is no need for Snappy Fax Server unless you have a network or need to support more than one fax modem/fax line.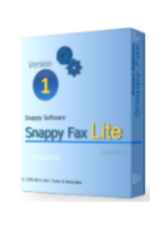 Snappy Fax Lite Edition
This is the Lite Edition of our fax software.  For entry-level or low-volume users, this is a good choice.  If your needs change in the future, upgrading to Desktop/Client is a snap.  At $29.99 Snappy Fax Lite is a great value!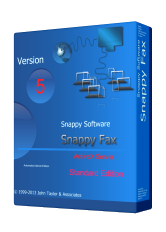 Snappy Fax ActiveX Server
If you are a programmer looking to incorporate the functionality of Snappy Fax in your software, our ActiveX Server is for you.  At $299.99 for the Standard Edition and $389.99 for the SG3 (Super G3 Edition), this is a bargain.  Developing faxing functionality yourself will cost you thousands, not to mention the man-hours required.  
ActiveX Server will work with any programming language that supports COM interfaces.

Our software is free to use for 30 days.  If after 30 days, you need additional time to complete a thorough evaluation, email us and we'll send you a temporary license to extend the evaluation period.  The software downloads on this site are not "demo" versions, they are fully functional and there are no feature limitations.
Once you purchase a license, there is nothing additional to download, just apply your license key to Snappy Fax and you're done.

Snappy Fax is compatible with all versions of Windows from Windows XP through Windows 11.  All Windows Server versions are also supported.