Configuration for PK Compounder
Snappy fax desktop/client has a "watched folders" feature whereby you can configure any number of disk directories (folders) to be continuously monitored by snappy fax for activity. When a new file is created in a watched folder, snappy fax will parse the recipient information from the file name and prepare and send the fax automatically without user intervention. For this to work properly, the file name must be constructed properly so snappy fax can parse the recipient information.
PK Compounder uses this feature to interface with snappy fax for fax transmission. It will create the file to be faxed, naming it in the required way and write the file to the watched folder. The watched folder must be configured in snappy fax in settings->watched folders as in the image below:

In PK Compounder's Settings under "CC & Fax" you need to setup the same directory (folder) as in the image below:
Also note the "snappy fax options settings". The image shows S_N and this means the fax routing method will be "S" for submit to the fax server software for transmission. If you are using snappy fax as a standalone desktop, change the "S" to "R". The "N" means do not send a cover page. If you want to send a cover page change it to "Y" and your chosen snappy fax default cover page will be used.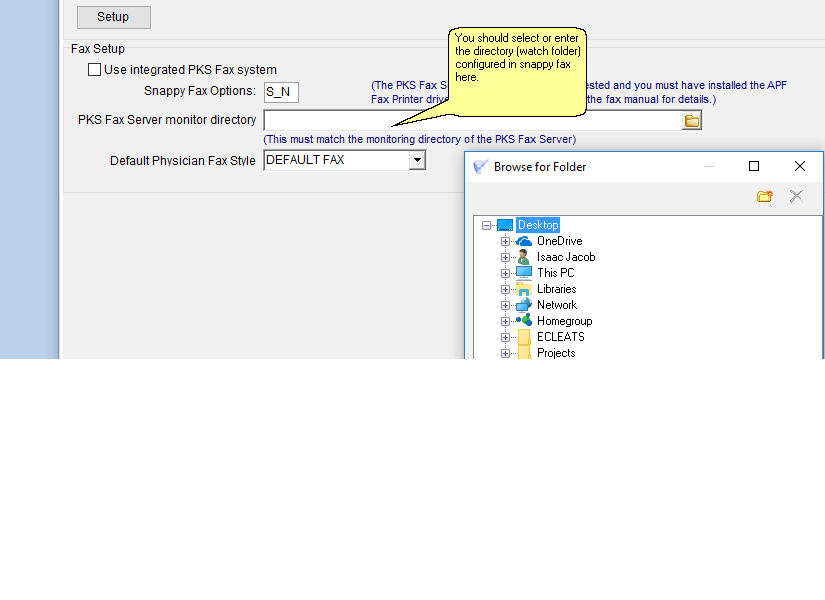 Resources